Ready! Get Fit! Build a Team!
Build more Acceptance for kids and adults with Down syndrome! We can't wait to run, walk, dash and celebrate with you! This family friendly afternoon event will be rockin' with new friends, returning families, great food & music, and HUGE HEARTS! Don't miss out!
Your generous donations will fund NEW programs like GiGiFIT, existing programs like LMNOP, Preschool Prep, GiGi U, new phonics curriculum for vital programs like 1-on-1 Literacy Tutoring, and more.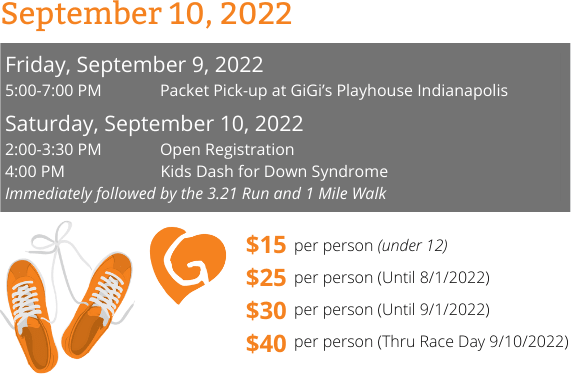 For Sponsorship Opportunities, please click HERE


Why Participate?
GiGi's Playhouse Down Syndrome Achievement Center's mission is to change the way the world views Down syndrome through national campaigns, educational programs, and by empowering individuals with Down syndrome, their families and the community. We offer free therapeutic and educational programming to individuals with Down syndrome and their families.
How Your Support Makes a Difference
Through free programs and through our Generation G Campaign for global acceptance, we EMPOWER families by maximizing opportunities for daily achievement and lasting acceptance. To ensure lasting acceptance, we must show the world what individuals with Down syndrome are truly capable of achieving as students, co-workers, volunteers, friends, and valued members of their communities. Our program outcomes help advance this vital social impact goal.